About Us
Our Story and Bios
Our vision
…for developing a great piano method led us to years of research, writing materials, practical applications of sensory integration concepts and conveying our own skills as concert pianists for our students. What is essentially different here is that we combined our 45 years EACH of mostly joint experience teaching and performing with daily interaction and review. This synergistic approach has benefitted scores of students and several affiliated teachers.
We continue to question the status quo and discover better ways to teach. We thrive on incorporating new exercises and techniques in our books as we revise them. We are huge technical gurus and students get technical exercises from the very first lessons. With great technique, one can play just about anything!
The

Silva Piano Method

is the standard of excellence for piano training. The goal is to get it in the hands of anyone who wants to learn to play the piano world wide.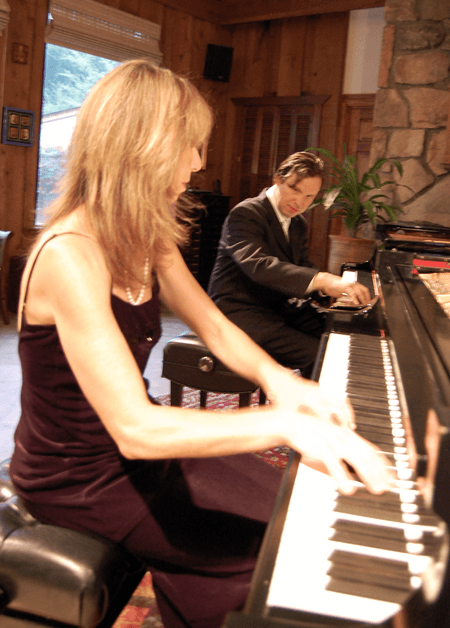 Francisco and Mireille Silva
Silva Music established and serving the community for over 25 Years 
A sought after husband and wife team, pianists Dr. Francisco Silva, DMA and Mireille Gradeff Silva, MM are active performing and recording artists that teach in their two studio locations in East Cobb, Marietta, Georgia.
They have two sons who are also musicians and have joined them at Silva Music Studios. Both are trained to teach the Silva Piano Method. Additionally, Ariel's specialty is Music Production both at the studios and in his production company, Dojo Records Studios. Dorian also teaches cello and piano at the studios.
Dr. Francisco Silva, DMA
Pianist, Instructor
"And one may ask: how many Brazilian pianists would attempt a program so incredibly demanding and yet play it so well?…It is the right time to quote the Latin phrase: Plaudite, sonat tuba! – Applaud, sound the trumpet!"
Mireille Gradeff Silva, MM
Pianist, Instructor
"Amazing technique and exquisite Chopin playing…"