Location and Contact Us
Map, directions and contact us
2 Studio Locations: Blackwell and Hawkins
Blackwell Address: 1518 Blackwell Road, Marietta Georgia 30066
We are located about 5 miles away from I-75 and I-575 and 3 miles from Shallowford and Sandy Plains Roads (East Cobb area). From I-75 traveling north from downtown Atlanta: Take Canton Road, Hwy 5 Exit (267-A) and stay on connector (Canton Road), traveling east. Continue about 5 miles through commercial area and 2 major intersections, first Sandy Plains Road, then East Piedmont. Pass Mc Donald's and Pep Boys on right. Walgreens is on the left at Blackwell. Turn right onto Blackwell Road traveling toward Shallowford Road. Continue straight through 4 way stop at Autumn Ridge and straight through next intersection at Ebenezer Road. Pass small white church at intersection on the right side. Slow down and look for driveway on right side. From Lassiter High School: stay on Shallowford Road, turn left at the light on Blackwell Road. Go through 4 way stop at Knight Road and Transfiguration Church. At the top of the hill, pass South Ridge subdivision entrance on the left, our mailbox 1518 will be on the left side after a few more homes. Entrance to our long, concrete driveway is flanked by 2 mailboxes, 1516 and 1518. Pass house #1516 and ours is next and on the end #1518. Parking is to the left of front yard on gravel. Watch for small children.
Photo, entrance to driveway from Blackwell Road:
Hawkins Address: 222 Hawkins Store Road, Kennesaw GA 30144
Located near the corner of Bells Ferry Road and Hawkins Store Road, next to the Walgreens. We share the parking lot with Walgreens.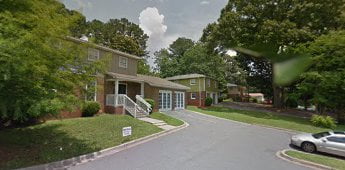 General Information
The best way to reach us is to fill out the contact form below! It will go straight to our email inbox.
Lessons are for age 4 – adults.
All levels: beginners through college prep and beyond.
New students may begin anytime of the year if lesson times are available. We try our best to get everyone on board.
The best times to schedule your free lesson are before each term begins, during holidays, summer and most weekends.
Let us know what days and times are convenient for you to schedule your complimentary lesson.
Students with prior instruction should prepare an audition with us. For example, prepare a scale to warm up and a previous favorite recital piece – don't stress.
We have no binding contracts. We do have a studio policy with procedures and guidance.
Scheduling advantage: Siblings may have lessons at the same time since there are more than one teacher and more than one studio at either location.
We have two terms, Fall and Spring each teaching year. Recitals are held at the end of each term in normal times.
Tuition is by the term or monthly, your choice.
Summer lessons are available.
One of us will return your message by reading your contact form. Sometimes, all of us are teaching and cannot get to you fast enough but we will certainly do our best!
Contact Form
Hello!
Please reach us through the contact form!
Let us know:
How you found out about us.

Who the lessons are for and the age of student.

If applicable, information about previous instruction and repertoire studied.

Do you have an instrument?

Your cell phone number and email for us to reach you.
The contact form on this page can help you answer these questions and help us learn more about your goals.
Just in case something happens that you don't hear from us right away, feel free to follow up with an email, text or voice. We really look forward to meeting you!
Silva Studios has really helped me learn piano. I've been playing and learning there since I was six, and I could never have better teachers. There unique style and technique has taught me so much, and I still have more to learn. I hope that any new student interested in piano goes to the Silvas, and they teach piano like they do for me.
Samantha
student, age 11